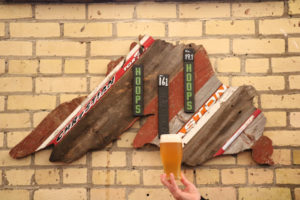 It's June now, and we are brewing a whole new round of lager beers including a Munich Lager, American Lager, Mexican Lager and of course more Keller Pils and Pilsener, we have 12 oak bourbon, cognac, and wine barrels full of various flavors.
We are excited to release the 16th edition of Finn's Finest, on tap just this morning. Finn's Finest is one of the two birthday beers we brew each year in honor of my kids, Daisy and Finn.
This is the first version brewed at Hoops with a newly formulated recipe featuring Denali, Cascade, Mandarina, HBC 522, Galaxy hops and Golden Promise, Pilsner, Wheat, 2 Row, Vienna malts. At 6.3% ABV, this very hoppy flavored —but not at all bitter—pale ale is a great birthday tipple.
Happy birthday to Finn Hoops, and drive safely with the new drivers' license (passed this morning at 8am at the DMV).
Cheers,
Dave